THE MAKING
OF
ZEZE & MERCEDES



This is the documentation of the pre-production of our graduation film "Zeze & Mercedes". A 2D digitally animated, 8 minute-long film about two kids
friendship, their
separation
and how they deal with it in an internal stage.

made by

Başak Kırıcı ( Director) , Corina Bojan (VFX Animator), Ming Mei-Ting Stotijn (Art Director),
Lok Thong Siu (Character Animator), Teodora Simon (Concept Artists)



The story
is about a boy called Zeze (8), paying a peculiar
visit to his friend Mercedes (8). Hesitant to explain the reason behind his short visit, Mercedes challenges Zeze to a race over the carpet on the condition that he needs to stay if he loses and listen to his reasons if he wins.
Throughout
the game, they race together with their imaginary friends through life-threating obstacles till Mercedes finds out about the bitter truth behind her friend's visit.
The film came to be, over a period of 3 years, as I met new people, lost old friendships, reconciled and quarrelled, witnessed reunions and divorces, and pondered how to function in all these relationship dynamics.
I wanted to
make
a film about the departure of my very first friend
and
coming to terms with it. I wanted to tell my friend how I feel
about their presence and absence in my life, the feelings of abandonment, longing, happiness, frustration, comfort, helplessness, nostalgia and gratefulness.
I wanted to portray the 'philia' between two friends and struggles that comes with it.
Early Concept Art of
Zeze & Mercedes, İzmir 2020
These are the early concept art and character designs of Zeze and Mercedes, in the beginning they had a different narrative than the final one. The story took place in the forest nearby their village and there were only one imaginary character that they came across. The kid's game shaped around this one character but as the production team grew, I was able to include more characters in the story. In the end we had a whole parade of imaginary characters in various shapes and sizes.


Zeze & Mercedes Character Design Studies, Publication of the Progress


Early Zeze & Mercedes Animation Tests, Izmir 2020
We started the production on May
with the help of the 1st years from animation department in WdKA. They gave us a boost up in the beginning phase and thanks to them we managed covered the half of the animation of the film.
This is one of the roughly animated style frames
to see how the animation would look like in the
end. Through the production we used this test as a reference for the rest of the scenes.


Style Frames for the Production


Thumbnails for the Production Sheet, Grayscale Compositions of
the Scenes


Proportion Comparison Sheet for the Characters


Rough Animated Scenes from
the Film

S3_s03_Start Running. S3_s04_Carpet Morphing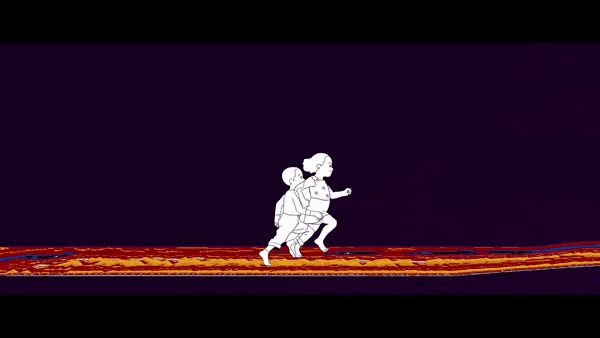 S3_s07_Mercedes Grab S3_s09_Charon Morphed Kids



S4_s24_Caterpillar Plunge S4_s25_Hand Reach